Notion has transformed from a mere note-taking and productivity app into a versatile tool that serves multiple purposes. One of its latest features is its impressive Content Management System (CMS), which eliminates the tedious backend struggles that come with using other platforms.
With its most innovative blog-based editor, you can automatically publish content from Notion to your blog site using Feather. Feather is a blogging platform that uses Notion as CMS.
In this article, you'll learn several things: how to use Notion as a CMS, its features, benefits, and best practices for using it effectively.
We'll also consider why Feather with Notion as CMS is a better alternative to popular platforms like Wix and WordPress for blogging.
Let's get right into it.
Notion as CMS
Notion
is a powerful content management system that helps you store, organize, and retrieve content seamlessly. You can publish your content in the form of a webpage.
Also, Notion has an effective publishing process: you can easily write, edit and manage your content database in one location. Just as easy as writing and editing on note apps.
The only setback with Notion is that it has limited customizable options. This means you cannot style your Notion page with themes, colors, and fonts just like a functional website should look.
However, there is a solution: you can use Feather as a blogging platform.
Benefits of using Feather for Notion as a CMS.
The onboarding process between Feather and Notion is the most seamless when you talk of integrating Notion as a CMS for a blog site.
There are no complicated actions or codes to copy or write. Just straightforward.
Feather itself comes with blog-specific features like blogs, pages, authors, RSS feed, schema markup, etc., to complement Notion and make the blog a fully functional one and SEO-optimized to rank content on Google.
Compared to similar platforms, feather syncs the desired web page slug directly from the "Slug" property of the Notion page.
Another important benefit of Feather is that it can easily handle millions of daily visitors.
Feather also supports all types of domain structures; your domain can be a root domain, subdomain, or subfolder.
Setting up Notion as a CMS Using Feather
To set up Notion using Feather. You'll need to have a Notion account and sign up for
Feather
. You can use Notion's free version, as there are no limitations to the number of content you can publish with it.
However, there are different premium plans for companies and small groups with various advanced features like team collaboration in your workspace, adding members to your personal project, etc.
You can check the comparison
here
to get a better understanding.
The next step is to integrate Feather with Notion. Feather already created a Notion database that you must duplicate on your Notion workspace and connect with Feather to sync them.
This database is configured, to sum up, your entire blog on Notion.
Features of Notion as CMS
Notion is not the only CMS platform; other popular CMS platforms like Wix, Squarespace, and WordPress exist.
However, when you want to consider simplicity and no-clumsiness, then Notion is the best option.
You can read our article about
Notion vs WordPress
to have a deep understanding of their differences.
But wait! There are more reasons to dig into Notion.
Zero Friction
Unlike other CMS platforms, which involve editing a live website, Notion's simplicity minimizes friction. The feeling is not different from taking notes or dragging and dropping elements on a canvas.
Notion's experience is "blog as you write" - no technicalities.
If you prioritize ease of publishing over more advanced customization features, Notion is the preferable CMS for your next website.
Centralized Content
Notion is a game-changer as it fixed the complexities around blogging. Two or three tools or plugins are needed in other CMS platforms to manage a blog.
With Notion, every process is carried out on the platform - you can plan, write, edit, and publish within it.
Super-Powered Content
Notion's database structure is a masterpiece.
A single content database powers your entire website and different pages and can also sort different views of that database to display the right content on the right pages.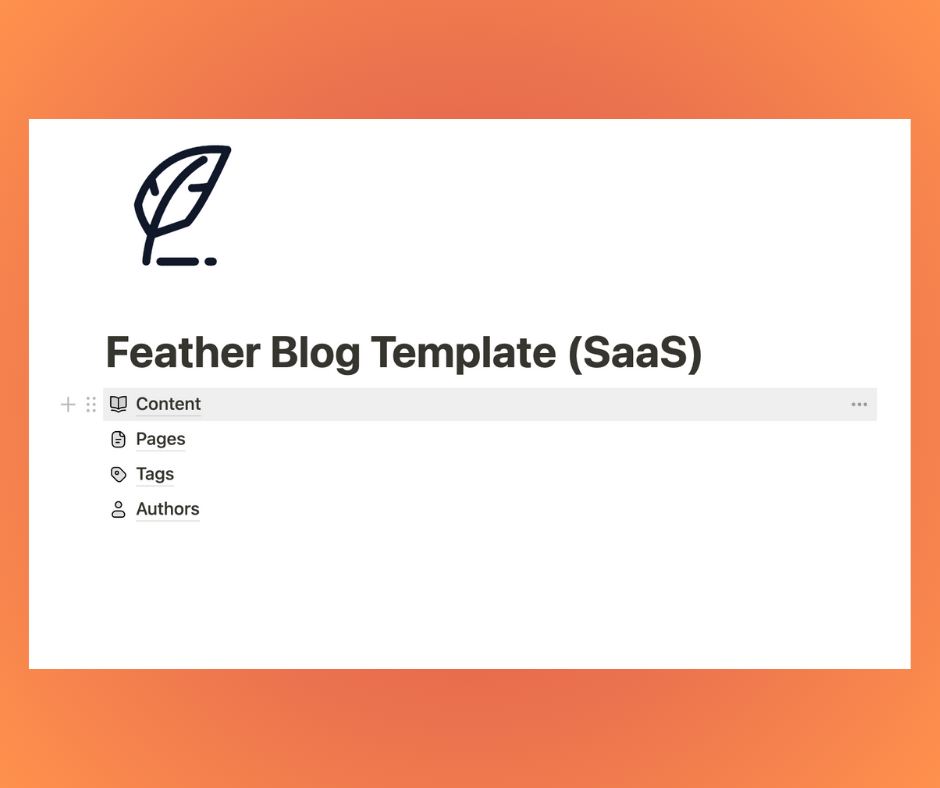 With Notion, you can create a content database for all your posts and use different database properties for tags like categories, post authors, slugs, etc.
Best practices for using Notion as a CMS
As powerful as Notion is, it is not built to give your website the feel it needs for user interaction and satisfaction.
The most effective way to use Notion as a CMS is to integrate it with Feather.
You can create your content from Notion and give it beautiful design templates to appeal to users.
You can customize and manage the database properties easily
Feather also comes with SEO optimization. When you use Feather with Notion, your blog will be optimized for search engines. We followed all the guidelines specified by these search engines and made it easy for Google to discover and index your blog.
Notion: the best choice
If you're not a fan of cumbersome technical processes, then Notion is the best choice for your CMS. Writing, publishing, and managing your entire content system is easy.
Unlike traditional CMS platforms for content management, Notion has proven to be the most effective and flexible, as you have all your content management processes within a space.
More importantly, Feather with Notion as CMS is a game-changer in the blog-site world as both tools seamlessly gives you the best blogging experience and your users likewise.